fimview - fast image viewer
Klick hier für eine Deutsche Version
[ Description ] [ Screenshot ] [ History ] [ To do ] [ Requirements ] [ Download ] [ Installation ]
fimview stands for fast image viewer and is a simple image viewer for X11 with keyboard control. fimview uses the Imlib2 library for loading images.
Here is a screenshot of fimview showing a picture of Zurich main station ;-):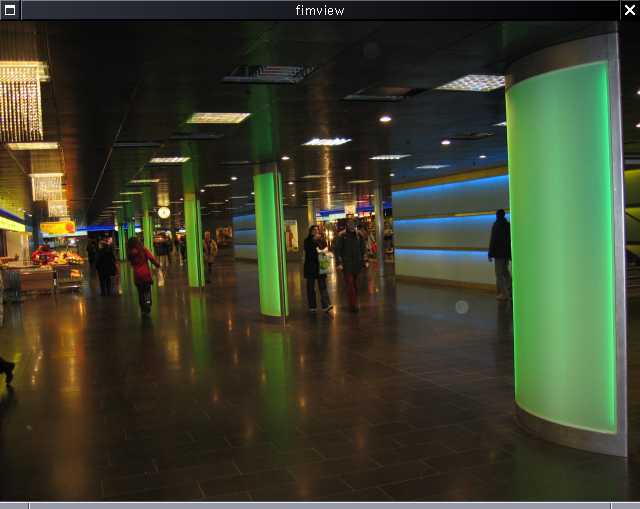 Version 0.1 (02.01.04)
load images alphabeticaly
if we press 'n' or 'p' a long time then don't load more than one image after releasing the key (other keyhandler?)
key 'f' for fullscreen
key 's' for toggling autoscale
key 'u': stretch the image on autoscale or not (unproportional scaling)?
display "Loading..." when loading a file
scaling with: mouse wheel or alt+left key (scale +/- 10%)
scaling with shift: scale +/- 1%
scaling with ctrl: scale +/- 100%
left button: move the image (with shift slower and ctrl faster)
middle button: revert
draw the filename, resolution and scale (toggle with 'i')
draw a small rectangle which shows the full image and a smaller rectangle
which shows the current part (enable dragging this small rectangle)
preload next and previous file in background (pthreads?)
'.' and ',' for next/previous picture
'-' and '+' for zooming in/out
key 'h' for showing help
UNIX or Linux
XFree86 (with header files)
Imlib2 (with header files)
Version 0.1
Download fimviewX.X.tar.gz or .tar.bz2 (replace X.X with the version number)
Extract it with tar xzvf fimviewX.X.tar.gz (if .tar.gz) or with tar xjvf fimviewX.X.tar.bz2 (if .tar.bz2)
Go into the directory fimviewX.X with cd fimviewX.X
Read the README file which is in this directory.
---