Django is a great framework for building web applications. Recently they started to create the newforms library that makes it easy to handle forms.
But the newforms library works only for static forms. Forms that have a fixed number of fields. What I wanted to do, is create a page that allows you to edit multiple instances of a model at once. It should be similar to edit_inline, but there should be a JavaScript link that allows you to add another instance of the object.
That's why I have written classes that make it possible to handle this type of forms using Django. No AJAX is utilized to make this work.
What will it look like?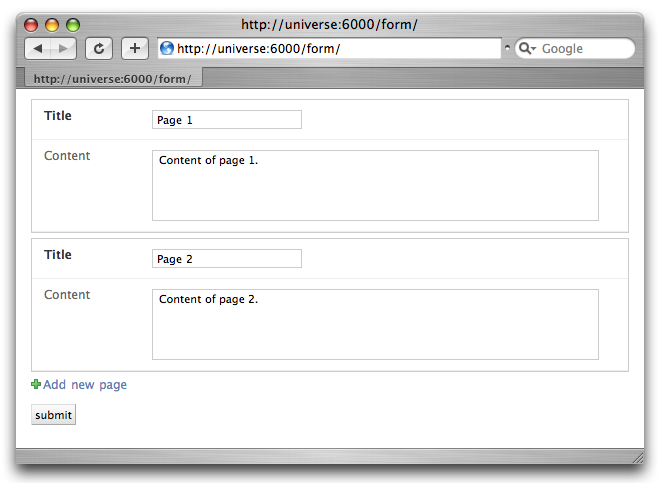 Getting started
Note: This howto won't work on Django 0.95. You need a recent SVN checkout of Django (I was using revision 4389).
I created a Python and JavaScript file that make it pretty easy to create dynamic forms. To be able to use my samples, you will have to download them and put the Python file into your application directory and the JavaScript file into your media directory:
Now let me show you have to use dynamicforms. Let's start with a simple model (models.py):
Now the view (views.py). I'll first import some stuff and create a form:
Note that I specified the template that will be used to render the form and the core fields, in this example title. Core fields are required to be able to add new elements.
The form template (form.html) itself is simple:
Feel free to style your form as you want. There are no restrictions.
Now let me add the actual view (views.py):
If there's no POST data, the form will be initialized with a list of rendered forms that are JavaScript-ready. I am passing the page's ID to make it easy to save the objects later. There's also a dummy-form that will be used for adding new objects (page_template). Note that render_js('from_template') uses the from_template function which I implemented and renders the form using the given template. You can also pass the template name via the constructor of the form. Instead of form_template, you can also use e.g. as_p.
When posting the form, a list (FormCollection) of posted forms is returned via the get_forms classmethod. We are again preparing the page_data in case the forms don't validate. If the forms are valid, their IDs and their cleaned data will be printed. This example doesn't save anything, but I'll show you later how to use the built-in form_for_instance method to save the objects.
Here's the template of the edit page (edit.html):
Note that I am using the mootools JavaScript library, because it already implements stuff like class inheritance (you will need to enable Window.Base and it's dependencies when downloading mootools). You can rewrite the JavaScript code if you use another JavaScript library.
The PageForm JavaScript class uses the page_template to add a new form if no values are specified. Forms with existing data will be created in the Window.onDomReady function.
Another example using form_for_model and form_for_instance
Here's a working view (views.py) that let's you add and edit Page objects without using the manually created PageForm:
You have to specify dynamicforms.BaseForm in form_for_model, because Django requires a BaseForm. Saving objects is as easy as calling form.save(). For updating objects I had to create another form_for_instance and pass the page's id.
Comments?
Have a lot of fun using dynamicforms and please leave a comment on this page if you like (or don't) dynamicforms or if you have suggestions.
Update (February 18th): Improved get_forms() in dynamicforms.py to allow deletion of objects (now there are no premature breaks when a form is missing).
Update (May 6th): Improved dynamicforms.js to prevent data loss when storing the template in a variable and creating multiple objects at once.
Update (August 4th): Changed clean_data to cleaned_data, improved dynamicforms.js (unicode, from_template takes now an optional extra_context argument)